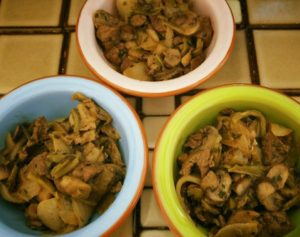 Serving size = 1 cup. Makes about 4. Each serving has approximately 9.75 net carbs
THE INGREDIENTS:
splash of olive oil
1 medium white onion (equal to about 2 cups)
2 cups steak tips
¼ tsp salt
½ tsp pepper
½ tsp apple cider vinegar
4 cups sliced mushrooms
Powdered beef bouillon, equal to 1 cube
1 tbsp Worcester sauce
2 tbsp sour cream
3 tbsp heavy whipping cream
2 tbsp parsley
1 cup frozen green beans

THE PREP WORK:
Slice your onion. I tend to cut it in half and then slice it into strips but if you want to dice it, that works too.
Microwave your frozen green beans for 2 minutes.
Wash, rinse, and drain the mushrooms.
Round up your spices and measuring spoons/cups.
LET'S GET DOWN TO BUSINESS:
In a large pan with a lid or a large pot, heat your oil and swirl it about in the pan.
Set to medium heat and add your onions. Cook them until they are nearly translucent, which might take a while. Be sure to stir frequently because onions like to get stuck on the bottom. This might take a while, I'm sorry.
Add your meat and the salt, pepper, and apple cider vinegar. Brown the meat on each side.
Add your mushrooms, bullion, Worcester sauce, sour cream, cream, parsley, and green beans. Stir well.
Cover and cook for 15 minutes.
PRO TIPS:
If you can't find steak tips/don't want to put that much money in it, any cut of beef trimmed and cut small will work, but if you're using tougher meat like stew meat you will want to lower the heat and add another 10 minutes to the end.
You can buy pre-chopped onions.
If you use frozen onions, you will have to defrost them and then drain them.
If you use canned mushrooms you still have to wash and drain them.
It's fine if you use an oil other than olive oil. There will be a change in taste but not enough of one to really matter.